Testimonials & reviews
Dear Gentlemen, here we are happy to present you the testimonials of the members who have found their soulmates with help of our Agency.
Here they express their opinion, experience and suggestions for those who are looking for a second half in another country, as well as appreciation to the company and staff.
Please read our ladies' testimonials about UaDreams, reviews of our agency as well — they are also very happy to be with our agency! Some ladies' testimonials you can also find in How we take our ladies photos.
We are so proud of what you, our dearest members, are saying about us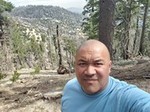 Abraham / USA
23 May - 5 June 2021
trip to Odessa
Abraham: I was truly amazed to see and meet my beautiful lady in real life
My lady and I met in December of 2019, and right away I felt very good feeling about her. We talked through chats and emails for many months. I originally made plans to come to visit her in April 2020, but the corona pandemic broke out and kept us from making first meeting. I originally thought that she would try to move on and find someone else to start communication with, but she was true to her words that she was not interested in starting with another man and was in this for good.
We continued our communication throughout the year 2020 and when 2021 came arrived the things started looking up again. I went to get vaccine in hopes that my travel to Odessa to see her would be easier. Thanks be to God things opened up, I booked my flight, hotel stay and purchased our meeting and interpreter.
I finally arrived in Odessa, met my wonderful and very opened interpreter and my girl. To make a long story short, I was truly amazed to see and meet my beautiful lady in real life. She is so attentive to me and and even more beautiful and amazing then the photos and chats. This is the beginning of forever for me but once if she is ready.
Thanks to UaDreams and thank to my interpreter Natalia for making my time here in Odessa and myself feel comfortable. Also thank you to my lady for showing me her beautiful city Odessa. Will be back.
Video
Hi, my name is Abraham and I just would like to do this small video to let you know that I am here in beautiful Odessa. I am right now here. I made to it May, 22.
I love this city, it's very beautiful. Unfortunately, I am leaving back to America tomorrow and I don't want to leave. I had a great time, I had a wonderful translation with Natalia who helps me to navigate to the city to see many beautiful places that Odessa has to offer like Arcadia, museums, art museums, many different restaurants that we got to eat in.
So thankful to her to help me out, for making my stay here very comfortable. I do want to come back some time this year. Yeah, we will see how is all goes there.
So, my trip here to Odessa was to meet my lovely lady. We met on May, 23 2021 and we spent a wonderful time here together. She was exactly as advertised, laughed a lot and we had much fun, very beautiful, very intelligent.
We had to spend some time with her family, she showed me around this beautiful city Odessa, we went to many excursions, we went to Arcadia beach, Shabo, — this is a little place outside of Odessa. She took me to many places and showed me this wonderful place and I love this place. I do want to return back and spend more time with her.
I just want to say thank you to UaDreams for making this trip very unique and wonderful and also thanks Natalia also for being my excellent translator and I want to work with her more in future. Thank you.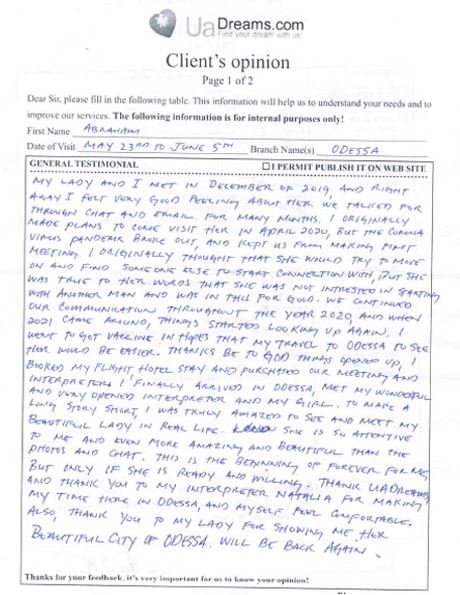 Leave testimonial about UaDreams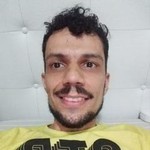 Saulo / Brazil
30 March 2021
Saulo: Compliments
Hello, I would like to report my experience. I confess that in the beginning it was difficult to trust the site, because I have already received many scam emails and scans on other sites. He was tired of it and discredited the human being for a few moments. But I must confess that I am thrilled and delighted with your purpose.
I almost cried when I read behind the scenes of the photos and I couldn't believe it because these women were afraid or don't believe in themselves. I have known the most beautiful flowers in the garden of God on Earth here on this site.
I confess that I am a man with my weaknesses like anyone, and amid so many women with exuberant beauty, our sexual instincts do seek beauty, because for us to give our life and heart to one woman for the rest of our lives, we want the one that attracts us the most, I can't be hypocritical, especially when it comes to women than from all the countries I researched a wife, (Venezuela, Colombia, South Korea, Russia) for finding the most beautiful in the world, I didn't even imagine that the Ukrainians were not only beautiful. They are the sweetest, smartest, most educated, modest, simple yet ambitious women, focused on the family, respectful of the leadership role of men in a marriage, and I am sure that each one here will be a great wife and exemplary mothers.
Not that I underestimated them, but it exceeded my expectations, I came at the invitation of a very special lady, but I received and talked with other girls respectfully to get to know better how they think. I never want to hurt anyone's heart, but we need to be loyal and choose only one, this is the only difficult part on this site lol Because each one carries something special that will change the way I see women and I see each one as my future daughters. The girls in the eyes of the Creator of the Universe. Gratitude for you to exist! If I could I would give a warm hug to all of them and say how amazing and wonderful you are!
Unfortunately I have lost some friends due to the pandemic and I can't travel now, so I don't want to warm the hearts of the girls right now because I still need to overcome the bureaucracy to work some time there and learn a little of the language and learn more about your culture and family. to give the least they expect from a man.
But it was already a very nice experience! Keep taking good care of our treasures with affection and respect because they deserve it!
Congratulations, since Brazil!
See what our clients say
Julia, 22

Kseniya, 33

Kateryna, 36

Valerie, 21

Ira, 28

Anna, 31

Olga, 28

Olya, 35

Helen, 43

Amina, 21

Mila, 18

Alina, 22

Juliana, 28

Lesia, 44

Yulya, 35

Elena, 34

Mary, 28

Julie, 35

Kristina, 25
More 900+ ladies
Support questions
Support: Good afternoon, Harry!
Any problems?
You: Goodafternoon, I would like to real girls images