Testimonials & reviews
Dear Gentlemen, here we are happy to present you the testimonials of the members who have found their soulmates with help of our Agency.
Here they express their opinion, experience and suggestions for those who are looking for a second half in another country, as well as appreciation to the company and staff.
Please read our ladies' testimonials about UaDreams, reviews of our agency as well — they are also very happy to be with our agency! Some ladies' testimonials you can also find in How we take our ladies photos.
We are so proud of what you, our dearest members, are saying about us

Gregg / USA
7-11 August 2014
trip to Sumy
Gregg: I felt completely safe and comfortable during my entire visit
This is my last day in Sumy and has been one of the best of trips of my life. Two months ago I met a wonderful lady online. After exchanging letters and photos for a few weeks, we decided to video chat. We would talk several times a week and still exchanged letters. We decided to meet in person but each of us could not meet before mid-August sue to work obstacles.
Despite the short time to plan and make arrangements, the agency staff made it happen. I can not express my appreciation enough to the staff helped me. When I arrived at the airport, I was met by my driver and was called by the translator to check on me.
I meet a wonderful lady and we had so much fun during our time together. Julia (our translator) was wonderful. She was always there to help translate but also made sure dinner reservations were made. She also helped me in making sure the taxi and restaurants treated me fairly. Thank you Julia! I will remember your kind and professional attitude.
Despite the recent conflict in the southeast part of Ukraine, there was not sign of trouble in Sumy. I felt completely safe and comfortable during my entire visit.
Thank you to the main branch and Sumy branch!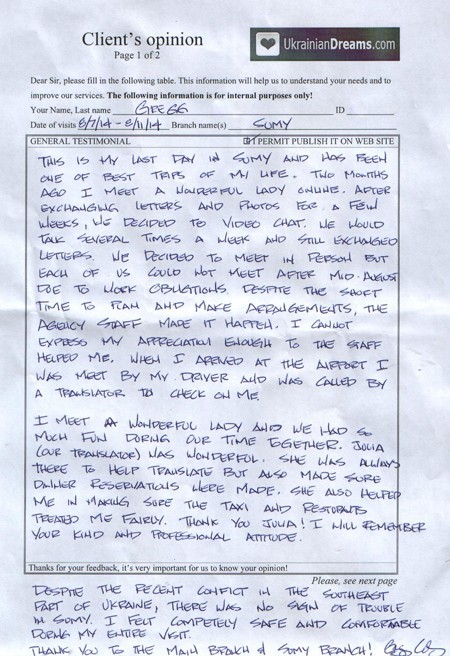 Leave testimonial about UaDreams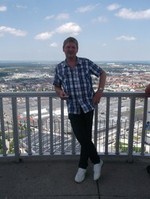 Enrico / Germany
12 December 2016
trip to Kharkiv
Enrico: I could see the stars sparkling in her eyes
About meine Lady and me...
It's so difficult for now to say more as in my thoughts.
It was on a day in October, as I see her for the first time on this site here. And I believe I was fallen down to her even in this first moment. We had written so much letters, talked about our past, our dreams and wishes too.
And now I'm here in Kharkiv in only one reason. I wanted to see her, to get to know her in real. Yes, I believe she is exact this so wonderful woman who I had made my picture of her in my thoughts before. We had meet and I had wish the world would be stay still for some moments, but the time goes. We was walking in the city, sit in the cafe, had evening meal in a pizzeria and breakfast in my apartment. We had a slow dance in the club.
Today is Monday already and she is working now. In the evening we will meet together, the last real for this year, and I hope I could see the stars sparkling in her eyes. I decided to close my account on this site, because I had found the one I'm looking for. And in my thoughts, I hope she will do the same and we will have our future conversation in private way and see each other soon. Big thanks to Victoriya for her translation and assistance in usual things, when can be difficult for a man from abroad in this so exciting city.
With my thanks and best regards,
Enrico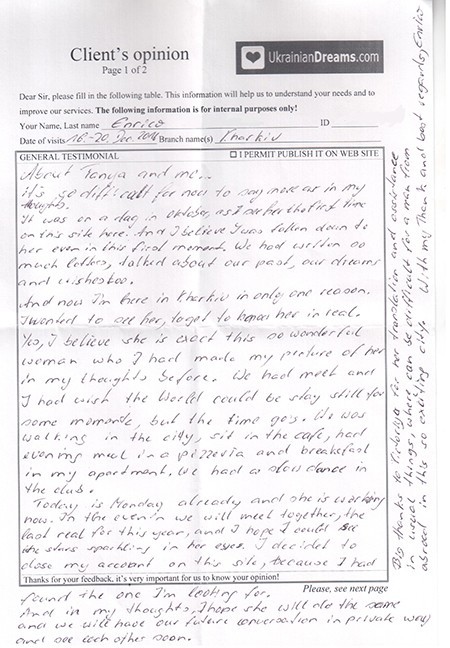 See what our clients say
Julia, 30

Julia, 46

Tetiana, 24

Elli, 22

Anastasia, 27

Maryana, 31

Nadya, 30

Alina, 24

Diana, 24

Julia, 25

Elena, 34

Mariana, 30

Karina, 21

Ulya, 31

Zoriana, 32

Olesya, 31

Alina, 28

Yulia, 28

Kris, 34

Katrina, 22
More 900+ ladies
Support questions
Support: Good evening, Victor!
How can I help?
You: Goodafternoon, I would like to sexy ukraine girls