Testimonials & reviews
Dear Gentlemen, here we are happy to present you the testimonials of the members who have found their soulmates with help of our Agency.
Here they express their opinion, experience and suggestions for those who are looking for a second half in another country, as well as appreciation to the company and staff.
Please read our ladies' testimonials about UaDreams, reviews of our agency as well — they are also very happy to be with our agency! Some ladies' testimonials you can also find in How we take our ladies photos.
We are so proud of what you, our dearest members, are saying about us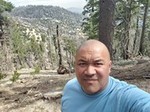 Abraham / USA
23 May - 5 June 2021
trip to Odessa
Abraham: I was truly amazed to see and meet my beautiful lady in real life
My lady and I met in December of 2019, and right away I felt very good feeling about her. We talked through chats and emails for many months. I originally made plans to come to visit her in April 2020, but the corona pandemic broke out and kept us from making first meeting. I originally thought that she would try to move on and find someone else to start communication with, but she was true to her words that she was not interested in starting with another man and was in this for good.
We continued our communication throughout the year 2020 and when 2021 came arrived the things started looking up again. I went to get vaccine in hopes that my travel to Odessa to see her would be easier. Thanks be to God things opened up, I booked my flight, hotel stay and purchased our meeting and interpreter.
I finally arrived in Odessa, met my wonderful and very opened interpreter and my girl. To make a long story short, I was truly amazed to see and meet my beautiful lady in real life. She is so attentive to me and and even more beautiful and amazing then the photos and chats. This is the beginning of forever for me but once if she is ready.
Thanks to UaDreams and thank to my interpreter Natalia for making my time here in Odessa and myself feel comfortable. Also thank you to my lady for showing me her beautiful city Odessa. Will be back.
Leave testimonial about UaDreams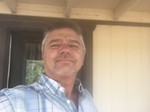 Keith / USA
21 May 2018
trip to Kremenchug
Keith: I promise you will not regret it!
I am writing this testimonial to my fellow UaDreams members who would be considering a trip to Ukraine. Let me first start by saying that a trip like this was complete out of character for this man from Phx, Az in the US. I was invited by such a beautiful woman that I just couldn't resist. While the first time here I set up my own travel plans and traveled with my brother, I can say next time I visit I will use the agency.
Guys, I want to tell you that my translator Natalia was so much more than I could have hoped for. She greeted me as I exited the car and calmed my nerves with her warm smile and wonderful nature. I was so relieved that she understood exactly what this experience much be like for a stranger in a far of land who is meeting someone special face to face for the first time. Natalia spent the day with us and made the experience one of the best of my life. Thank you again, Natalia!  From what I have experience here in country I can sum it with one statement: "the women of Ukraine are this country's greatest treasures!"
If you are for one second considering an invitation from someone special you have met here on this site or if you would like to meet several beautiful women, all I can say is "DO IT". I promise you will not regret it!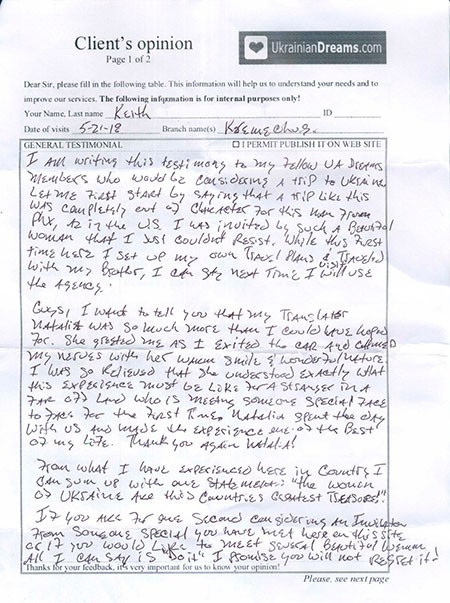 See what our clients say
Anastasiia, 23

Kate, 31

Kristi, 30

Kate, 31

Julia, 19

Katie, 34

Ilona, 26

Tasha, 27

Viktoria, 29

Helen, 23

Anastacia, 23

Anna, 23

Anetti, 30

Katerina, 26

Anastasia, 22

Anastasiya, 21

Katerina, 29

Rita, 35
More 900+ ladies
Support questions
Support: Hello, Vernon!
Any problems?
You: Goodmorning, Where to look foreign girls looking for american men